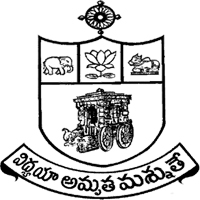 On February 28, 2011 results of UG Semester I (Lateral Entry) examination was declared by Sri Krishnadevaraya University (SKU), Anantapur. For knowing more about the results one can visit the University's official website:
www.skuniversity.org
Sri Krishnadevaraya University (SKU) is a public university in Anantapur in the state of Andhra Pradesh. It has earned its name as a centre of academic excellence and it is also accorded with a four star status by the National Assessment and Accreditation Council (NAAC). The University was founded in the year 1968, however, in 1987 it was conferred the status of an affiliating University. Presently, it provides course at various faculties via its numerous affiliated colleges / institutes.
Date of Results Declaration
February 28, 2011

Where to Go for Result
www.skuniversity.org
Contact address:
Sri Krishnadevaraya University
Anantapur - 515 003
Andhra Pradesh
Phone:
+91-8554-55367-73 / 255231 / 255700
Fax:
+91-8554-255244 / 255805 / 25
www.skuniversity.org